NAFEO Congratulates Judge Ketanji Brown Jackson
NAFEO is elated that Judge Ketanji Brown Jackson,  whose parents graduated from HBCUs, is under consideration for Justice of the United States Supreme Court.  It is clear that Judge Brown Jackson possesses an outstanding education, the requisite judicial experience and temperament, and is a person of great rectitude.  As the daughter of HBCU alumni, we know that she would bring to the High Court independence and an understanding of our interdependence as citizens of the United States.
Judge Brown Jackson is an eminent lawyer and judge on the United States Circuit Court for the District of Columbia which is  second only to the United States Supreme Court in terms of prestige and prominence. She possesses a unique lens through which she would view the impact of race, ethnicity, gender, religion, socio-economic status and geography on the cases that will be  brought before the High Court, many of which will impact higher education.
The American postsecondary education systems are stratified, and have a wide range of institutions that offer 2-year, 4-year, graduate and professional degrees.  Judge Ketanji Brown Jackson attained her degrees from some of the most well-resourced institutions in the world. That experience is important to the perspective she would bring to deliberations and decision-making on the Supreme Court. So too, would she ring her experiences as a Public Defender who zealously represented men and women of least advantage, primarily persons of color,  before the U.S. District Court for the District of Columbia, to ensure their right to counsel in a criminal proceeding was neither denied nor compromised.
We are at a critical juncture in our great nation's history. There are ongoing debates about the value of a postsecondary education.  State legislatures are imposing gag orders on faculty, limiting their freedom and flexibility to teach.  Discussions are ongoing about how to make public higher education systems more inclusive and reflective of the populations of the states in which they are located.  There are questions about how to end the vestigial impacts of decades of de jure discrimination in higher education by the states that operate historically White and Black university systems. These issues are likely to be argued before the Supreme Court.  We want someone like Judge Brown Jackson to hear oral argument, engage in deliberation with other justices and impact a decision in a case of particular interest to NAFEO, Students for Fair Admissions v. President and Fellows of Harvard College.  The case challenges the consideration of race among a range of other important criteria, in attempting to attain an excellent, diverse student body. Attaining a diverse student body has been repeatedly recognized by the Supreme Court as a compelling government interest. The High Court has upheld diversity plans in higher education that consider an applicant's race along with other admissions criteria, that are narrowly tailored to achieve a compelling government interest  in diversity.
NAFEO provided its perspective during earlier phases of Students for Fair Admissions v. President & Fellows of Harvard College. While we are uncertain of the decision Judge Brown Jackson would make as a member of the Supreme Court, we are certain that her presence would enhance the hearing, processing, deliberating, and decision-making by the Court. It would  ensure for the first time that the perspective of a Black female would be represented in shaping the future of the Academy and the American workforce, executive, service and diplomatic corps. As with every other class of persons,  Black women bring to everything in which they are engaged a unique lens shaped in part by their experiences as Black women. This added diversity on the Supreme Court would ensure a more robust exchange of ideas and decision-making on all matters regarding moving America closer to realizing her Egalitarian Ideal— closing the education, employment, economic, wealth, health, sustainability and justice gaps in America.
HBCUs Primary Source of Black Lawyers & Judges As we are celebrating NAFEO's largest class of female HBCU and PBI presidents in 2022, with 47 female presidents, we are certain that the presence of Judge Brown Jackson on the Supreme Court, would enrich it immensely. Among other things, data suggest that the mere presence of a Black female on the Court would increase the confidence of Black females who appear for the High Court. Black females who are represented before the High Court would have a greater sense justice might be possible.
HBCUs graduate 50%  of  Black lawyers, more than 50% of whom are female. They graduate  80% of Blacks who have become judges. The 6 HBCU ABA-approved law schools, out of 203 such schools in America, graduate one-quarter (25%) of the  of nation's Black lawyers. These lawyers would most assuredly stand taller when appearing before the most diverse Supreme Court in the nation's history.
Diversity is especially vital to the Supreme Court that is ultimately responsible for meting out justice in America. It is a cornerstone of the National Association for Equal Opportunity in Higher Education.  Judge Ketanji Brown Jackson possesses "The Substance of Things Hoped For" in a Supreme Court Justice. 'She Evidences Great Things Seen and Unseen.'  Judge Ketanji Brown Jackson deserves a seat on the highest court in the land.  She has the education.  She has the experience. She has the temperament.  And she has a lens through which to view cases unlike any other Justice in the United States Supreme Court.
Lezli Baskerville, Esquire
President & CEO
John Pierre, Esquire
Chancellor Southern University School of Law
Chair, NAFEO Presidents Policy Advocacy Council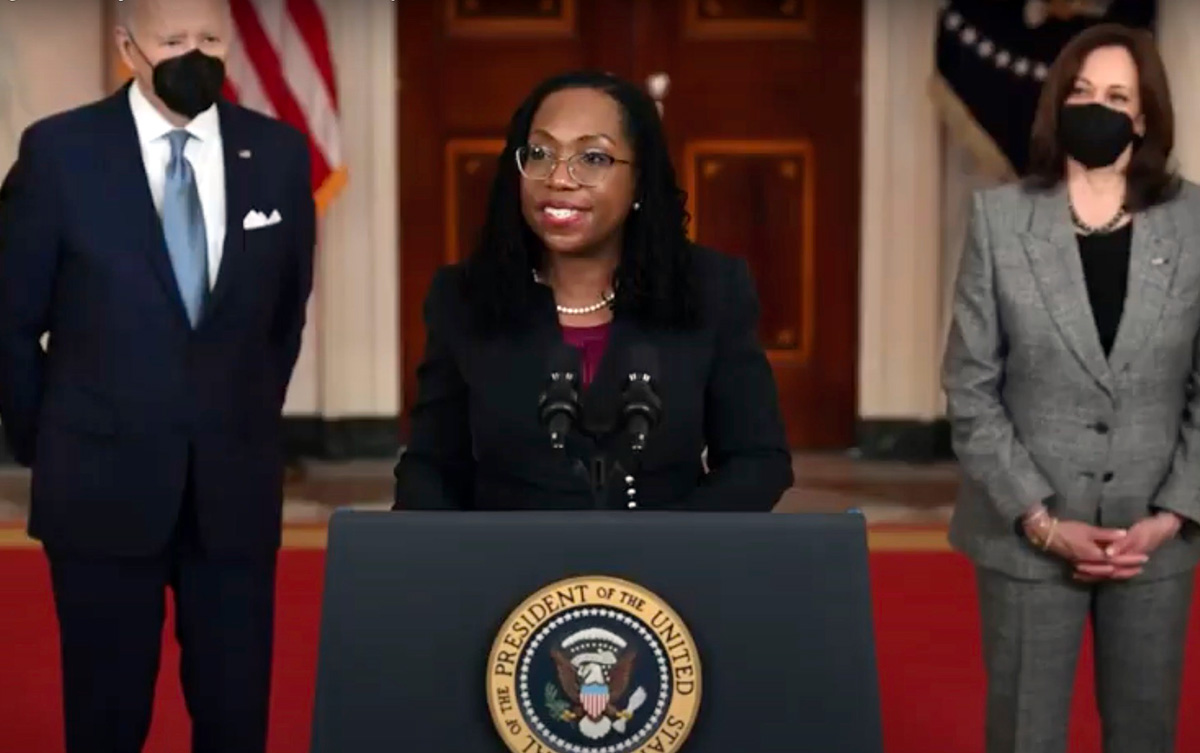 HBCU Alumni 'Raised Up' First Black Female Supreme Court Justice
About NAFEO
The National Association for Equal Opportunity in Higher Education (NAFEO) is the nation's only national membership association of all of the nation's Historically Black Colleges and Universities (HBCUs) and Predominantly Black Institutions (PBIs). Founded in 1969, by the presidents and chancellors of HBCUs and other equal educational opportunity institutions, NAFEO is a one of a kind membership association representing the presidents and chancellors of the public, private, independent, and land-grant, two-year, four-year, graduate and professional, HBCUs and PBIs.